What's News?
State Rally 2020 Postponed
The JCCT has sadly decided to postpone the 2020 State Rally, due to the current Coronavirus epidemic. The rally will now tentatively be held in October, probably from the 9th to the 11th.
Obviously the situation into the future is uncertain, and more information will be provided as soon as practicable.
Jaguar National Rally 2020 – Postponed
The JCCWA has announced that the 2020 National Rally has had to be postponed, due the Corinavirus epidemic. Please see their Facebook page for details.
The JCCWA's Facebook page provides the latest information.
The National Rally 2020 website is also available.
Vale – Cleve Allen
Well-known club member Cleve Allen died recently, leaving a significant hole within the JCCT. An active and enthusiastic member, Cleve will be sadly missed. You can read a heartfelt tribute to Cleve here.
2018 National Rally Photos Available
A small band of JCCT members attended the 2018 National Rally in South Australia. A few pictures of Tasmanian activities and members are in our Galleries, but many more pictures can be found at the National Rally site; http://www.jaguarnationalrally2018.com/national-rally-gallery
Wayne Double's Mark II at Symmons Plains
Danny Taylor has provided some video footage of Wayne Double's awesome Mark II racing at the recent "Cars, Bikes and Bands" event at Symmons Plains. You can view the footage below…
Wayne Double's Mk II
2017 AGM
This year's AGM was held at Oatlands recently, and about 25 members attended to elect a new committee, and enjoy a catered lunch. You can find the updated list of committee members in the Members section (when you are logged into the website). Congratulations to all the new and old members returned.
Northern Cat Chat – it's back!
The Northern Cat Chat has returned! From Friday 30 September, it will be held as usual on the last Friday of each month, until at least the end of the year. So please roll up and support this great event.
National Rally 2015 – Site Archived
The website for the highly successful 2015 National Rally has expired, but you can still access our archived copy here.
Tassie Wins at 2016 National Rally
Congratulations to JCCT members Charles Weston and Wandy McIntyre-Leake for their wins in the 2016 National Rally in Queensland recently.
Charles won the Terry Kelly Memorial Age/Distance Trophy, and Wandy received the Paul Skilleter Journalistic Award for her great article "Geoffrey's Bucket List", which appeared in the August edition of the JCCT's Jaguar Torque.
(You can read Wandy's Article here.)
A few selected photos from the event; the Tasmanian contingent in front of Charles Weston's lovely E-Type; Charles and Sherrye with their Perpetual trophy and the take home one; and Des with Wandy's Perpetual and take-home trophies.
You can find more pictures in our 2016 National Rally Gallery.
New Constitution Adopted
As mentioned below, a Special General Meeting was called prior to the annual Christmas Party event at Ross. Gary presented the new constitution to the meeting, and called for any comments anyone wished to make. There were none, so a formal proposal to adopt the document as our official new Constitution was made, and the proposal was passed unanimously.
The new Constitution is available for members to peruse in our Members… General Documents… area, accessible when logged-in to the site. Alternately, please contact a member of the Committee and request a copy. The Minutes of the Special General Meeting are available in the Members… Committee Minutes… area.
Addendum: Following the SGM, the new Constitution was lodged with the Corporate Affairs Department, and it has been confirmed as being officially registered.
Constitution Changes
As members will be aware, it was the intention to consider the revised Constitution of the JCCT at the 2015 AGM. However, as part of the process of getting this checked and groomed by our lawyers, we unfortunately failed – by just two days – to meet a deadline for providing 14 days notice for the proposed Constitution change. Legal advice was that this 14 day notice period is set in stone, and cannot be circumvented, and so it is now proposed to consider the revised Constitution at a Special General Meeting to be held as part of the Christmas event in Ross. We apologize for the delay, but it was thought prudent to have the proposed document legally checked before it was presented to the membership. As it happens, as explained by Gary at the AGM, the lawyers made some minor changes in respect of removing excess verbiage and false legalese, with a view to making it as simple as possible.
The final version of the proposed Constitution is available for members to peruse in our Members… General Documents… area, accessible when logged-in to the site. Alternately, please contact a member of the Committee and request a copy.
Northern Cat Chat
At last! Northerners can now attend their own Cat Chat each month. Located at the VCCA clubrooms at 67 Lawrence Vale Road in South Launceston, this is an informal chance to catch up, chat, or partake in whatever activities have been organised. It's on the last Friday of each month, from 6 pm to about 9 pm.
Please contact Martin on 6393 1749 for more details.
Committee Minutes now available online
Following a decision not to publish full committee minutes in the magazine, we now offer members access to the full minutes online. These are available from the Members… Committee Minutes… area when you are logged into the site.
Jaguar Releases Details of new F-Type Coupé Series
Jaguar recently issued a statement providing details of their new flagship F-Type Coupé series. You can read the full version of this release here.
40th Anniversary Dinner – Bonus Souvenir now available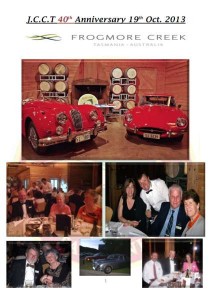 The JCCT's 40th anniversary dinner was held at the Frogmore Creek winery, near Cambridge. A large group of almost 100 guests enjoyed a great evening of food and wine, and some entertaining stories and memories from various members.
Special guests included our founding members Roger Richardson, Chris Riches and Dave Dungey, as well as several life members, including Ron and Shuet-Fong Hiller, Jill Hobbs, Mark Tuckett and Wandy McIntyre-Leake,
A terrific evening, and one of which the club can be very proud.
Club members can now download a four-page souvenir of photos from the dinner; you'll find it in the Members… Documents… area when you are logged-in to the site.
You can read about the history of the JCCT here, and you'll find pictures of the event in our Galleries area.
Like us on Facebook!
The JCCT now has our own Facebook page, where you can see what's been happening, leave comments, and more. Check us out, and Like us, so your Facebook Friends can share your interests.
As well, the site now has Facebook 'Like' links at the bottom of all pages. By clicking this link (and logging into your Facebook account if necessary) your 'Like' for that page will be displayed on your Facebook Timeline. This will expose our website to a wider audience, and possibly gain some extra members. So start 'Liking' today!
New Feature – Mailing List Subscription
Ever miss an interesting event or piece of club news because you didn't notice it in the magazine or website? Or didn't know of a late change to an event? Now you can subscribe to receive an email notification of upcoming events and general club news.
Just go to the "Contact Us" page, and you'll see the subscription area in the sidebar on the left. Enter your name and email address, and select the mailing list(s) you would like to receive. You'll then receive a verification email, which asks you to confirm your subscription (this checks for invalid email addresses, etc). Once confirmed, we'll send you an occasional email relevant to the list(s) you selected (generally no more than one a month.)
All emails you receive will contain links which allow you to change your subscriptions, or completely unsubscribe, if you decide to opt out.
A New Website
Welcome to the new-look JCCT website, which has been rebuilt from the ground up. You'll find most of the old familiar features, but many have a new look, with improved functionality.
In particular, the "Events" and "Classifieds" sections have received a major facelift, and the "Galleries" have a crisp new look as well. "Regalia" has undergone a major change, where you can easily view some of the cheapest Regalia in Australia from the comfort of your own home.
Have a look around, see what you think. Comments and suggestions are welcome; please direct them to the Webmaster, via the "Contact Us" page.