What's News?
NATIONAL JAGUAR RALLY 2022 UPDATE
At the present time we are quietly working on the premise that our hosting of this great event will go ahead in March 2022.
We realise there will be a deadline when we will have to seriously consider whether on not we proceed.
At this stage we are looking at October/November to make a final decision, as we do not want prospective Participants to have to bear the cost of cancellation of Ferry and accommodation bookings.
Predictions are we may not have the freedom to travel within Australia until late 2022 or 2023.
At time of writing this NSW, Victoria and SA are in hard lockdown and it is a known fact we need those States to be open for us to continue successfully with our plans to host this event in 2022.
My main concern is, that the present lockdowns may be lifted in say September but it was only 2 months ago that Victoria had its major closure. This is a likely scenario for the rest of this year, or until we are all vaccinated.
I intend to give you a monthly update to keep you informed on the progress of us hosting this event.
Jenni Appleby
Rally Director
National Jaguar Rally 2022
Vale – Athalie Wiggins
The club recently lost a long-time and much valued member in Athalie. You can read a heartfelt tribute to her here.
Motorsport Australia Licence Update
In light of the ongoing COVID-19 pandemic, the Motorsport Australia Board has approved changes to the expiration of certain licence types. These changes were the result of a month long consultation by Motorsport Australia with members and other stakeholders.

Motorsport Australia President Andrew Papadopoulos said with State and Federal Government restrictions still in place across the country, there was a need to ensure licence holders were supported.

"We are certainly very keen for motorsport to return, but we are currently in somewhat of a holding pattern as we wait for things to improve," Papadopoulos said.

"As such, over recent weeks, our administration has been working out the best solution for our licence holders, in consultation with State Councils and clubs, and have determined that those with national and clubman licences will automatically have their licences extended as outlined."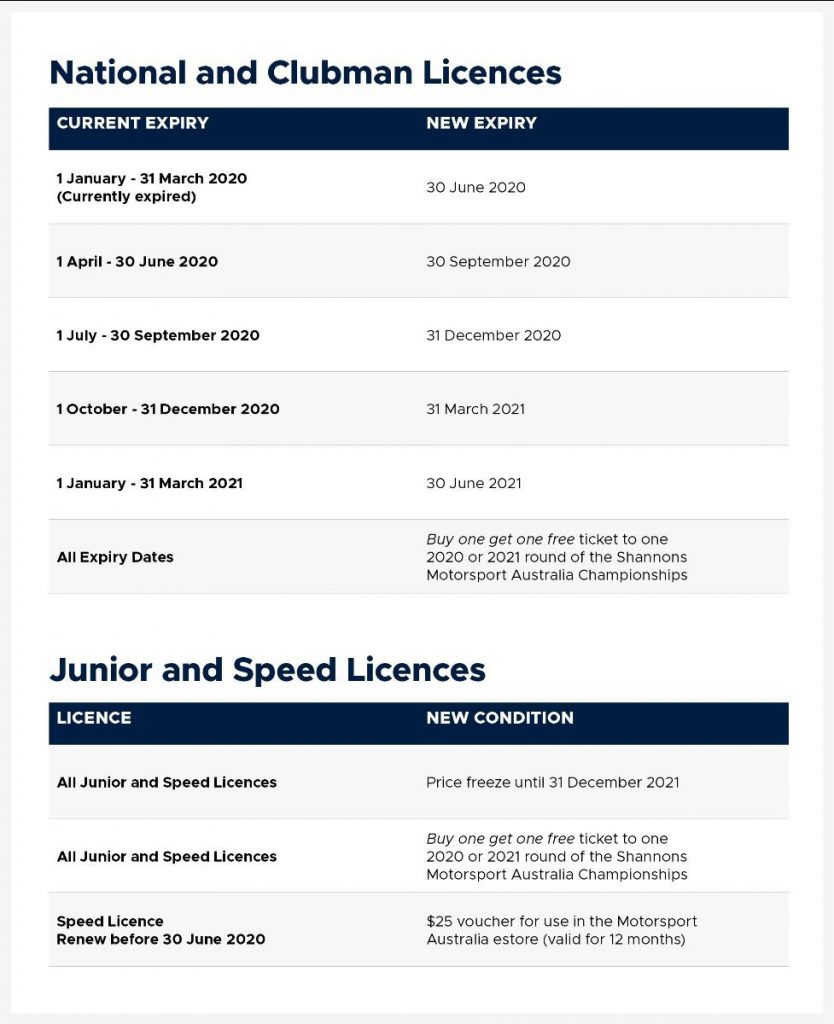 "We have also committed to a price freeze on all Speed and Junior licences.

"The changes to the expiration dates also allow us to move National and Clubman licences on to a more regular renewal cycle, meaning that renewals can be processed every quarter, instead of every month as is the case now. This will ensure our membership team can perform as efficiently as possible, making the annual renewal of a licence as simple as possible for members and reducing any delays."

All licence holders will also be given the opportunity to utilise a buy one, get one free Shannons Motorsport Australia Championships General Admission ticket for the round of their choice in 2020 or 2021.
The changes approved by the Board are as follows:
All Junior and Speed licences to be subject to a price freeze until 31 December, 2021;
All National and Clubman licence holders whose licence has

expired in the period from 1 January to 31 March 2020, and have yet to renew, will be extended to 30 June, 2020

an upcoming expiry in April, May or June 2020 will have their expiry date extended to 30 September, 2020

an upcoming expiry in July, August and September 2020 will have their expiry dates extended to 31 December, 2020

an upcoming expiry in October, November and December 2020 will have their expiry dates extended to 31 March, 2021

an upcoming expiry in January, February and March 2021will have their expiry dates extended to 30 June, 2021
Speed licence holders will also receive a $25 Motorsport Australia estore voucher valid for 12 months if they renew prior to 30 June 2020.
Papadopoulos added that "we looked at a number of options and determined that allowing members to delay their renewal and then obtain an extension was the fairest outcome".
The above changes to expiry dates will come into effect on 1 May, 2020.
Anyone with queries can contact the Motorsport Australia hotline, which is still available via phone on 1300 883 959 or via email: memberservices@motorsport.org.au.
Vale – Cleve Allen
Well-known club member Cleve Allen died recently, leaving a significant hole within the JCCT. An active and enthusiastic member, Cleve will be sadly missed. You can read a heartfelt tribute to Cleve here.
Wayne Double's Mark II at Symmons Plains
Danny Taylor has provided some video footage of Wayne Double's awesome Mark II racing at the recent "Cars, Bikes and Bands" event at Symmons Plains. You can view the footage below…
Wayne Double's Mk II
National Rally 2015 – Site Archived
The website for the highly successful 2015 National Rally has expired, but you can still access our archived copy here.