What's News?
Christmas Party 2020
Due to the still-present COVID restrictions, we have had to reshape our annual Christmas Luncheon event to be held at a commercial venue.
This year's event will be a Buffet at the Tamar Valley Resort, at Grindelwald, a few kilometres north of Launceston, on Sunday 6 December, at 12.30.
There will be a Cash Bar for drinks, and members will be required to contribute $20.00 per head, with the Club contributing the rest.
Below is the Buffet Menu, and for members wishing to make a weekend of the event, accommodation options at the Resort are also listed.
RSVP to Jenni Appleby at 0438 807 646 or jenni-des@bigpond.com by deadline 1st December 2020.
---
Buffet Menu
Soup De Jour – Served with a Fresh Bread Roll
Garden Salad – With a Balsamic Dressing
Pasta Salad – Chef's Fresh Gourmet Pasta Salad
Christmas Cold Meat Platter
Your Choice of 2 Roast Meat – Hot Carved Roast of the Day – Lamb, Beef, Chicken, Pork and Turkey
Curry of the Moment – Mr Singh's Mild Curry Creation
Roast Potatoes and Vegetables
A Selection of Rudolph's Favourite Desserts – Including Christmas Pudding
Premium Tea and Coffee
---
Accommodation
Bed and Breakfast
Hotel Suite, Villa, Studio and Two Bedroom Chalet Accommodation.
Twin or Double Share Hotel Suite,
Villa or Studio Accommodation
$76.00 Per person
Twin Share Two Bedroom Chalet
$86.00 Per person
Children additional $20
All prices include breakfast
Motorsport Australia Licence Update
In light of the ongoing COVID-19 pandemic, the Motorsport Australia Board has approved changes to the expiration of certain licence types. These changes were the result of a month long consultation by Motorsport Australia with members and other stakeholders.

Motorsport Australia President Andrew Papadopoulos said with State and Federal Government restrictions still in place across the country, there was a need to ensure licence holders were supported.

"We are certainly very keen for motorsport to return, but we are currently in somewhat of a holding pattern as we wait for things to improve," Papadopoulos said.

"As such, over recent weeks, our administration has been working out the best solution for our licence holders, in consultation with State Councils and clubs, and have determined that those with national and clubman licences will automatically have their licences extended as outlined."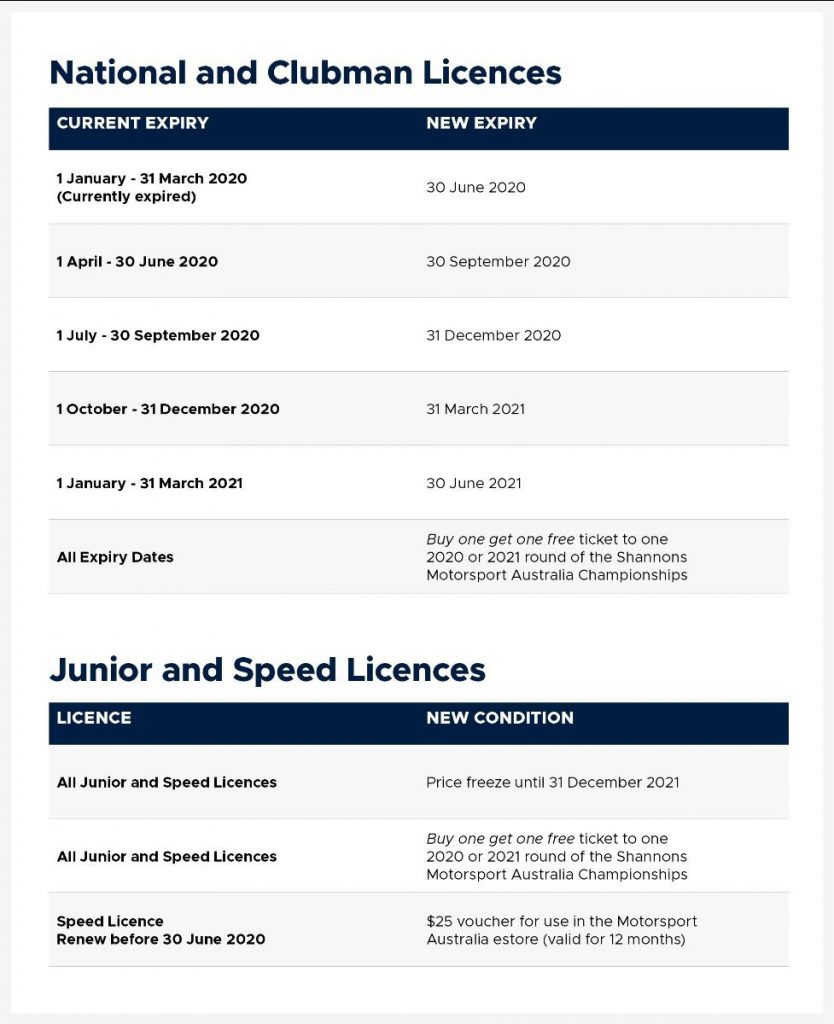 "We have also committed to a price freeze on all Speed and Junior licences.

"The changes to the expiration dates also allow us to move National and Clubman licences on to a more regular renewal cycle, meaning that renewals can be processed every quarter, instead of every month as is the case now. This will ensure our membership team can perform as efficiently as possible, making the annual renewal of a licence as simple as possible for members and reducing any delays."

All licence holders will also be given the opportunity to utilise a buy one, get one free Shannons Motorsport Australia Championships General Admission ticket for the round of their choice in 2020 or 2021.
The changes approved by the Board are as follows:
All Junior and Speed licences to be subject to a price freeze until 31 December, 2021;
All National and Clubman licence holders whose licence has

expired in the period from 1 January to 31 March 2020, and have yet to renew, will be extended to 30 June, 2020

an upcoming expiry in April, May or June 2020 will have their expiry date extended to 30 September, 2020

an upcoming expiry in July, August and September 2020 will have their expiry dates extended to 31 December, 2020

an upcoming expiry in October, November and December 2020 will have their expiry dates extended to 31 March, 2021

an upcoming expiry in January, February and March 2021will have their expiry dates extended to 30 June, 2021
Speed licence holders will also receive a $25 Motorsport Australia estore voucher valid for 12 months if they renew prior to 30 June 2020.
Papadopoulos added that "we looked at a number of options and determined that allowing members to delay their renewal and then obtain an extension was the fairest outcome".
The above changes to expiry dates will come into effect on 1 May, 2020.
Anyone with queries can contact the Motorsport Australia hotline, which is still available via phone on 1300 883 959 or via email: memberservices@motorsport.org.au.
Jaguar National Rally 2020 – Postponed
The JCCWA has announced that the 2020 National Rally has had to be postponed, due the Corinavirus epidemic. Please see their Facebook page for details.
The JCCWA's Facebook page provides the latest information.
The National Rally 2020 website is also available.
Vale – Cleve Allen
Well-known club member Cleve Allen died recently, leaving a significant hole within the JCCT. An active and enthusiastic member, Cleve will be sadly missed. You can read a heartfelt tribute to Cleve here.
Wayne Double's Mark II at Symmons Plains
Danny Taylor has provided some video footage of Wayne Double's awesome Mark II racing at the recent "Cars, Bikes and Bands" event at Symmons Plains. You can view the footage below…
Wayne Double's Mk II
National Rally 2015 – Site Archived
The website for the highly successful 2015 National Rally has expired, but you can still access our archived copy here.