See more products in the categories listed at left.
To order any items from the JCCT Regalia, please contact the Regalia Officer.

Car Detailing Book
A great little book, telling you how to fully detail your car for shows and judging.

JCCT Windscreen Banner
An attractive, weatherproof and durable flexible banner to fit across the top of your windscreen when parked. It secures under the front doors jambs, and rolls up small to easily fit in the glove-box.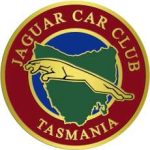 Window Sticker
An internal sticker for your car window, featuring the JCCT logo.

Window Stickers
A pair of gold internal JCCT stickers for your car's side windows (L+R).

BBQ Apron
A dark green BBQ apron, with a Jaguar logo.